The history of the factory
Joint-stock company Kuznetsov factory was founded September 24, 2012, on the basis of the largest in Europe production and stock body in producing and storing acetylene, calcium carbide, then arsine and phosphine mixed gases, built in 1976. The foundation of this factory made it possible to produce a great surplus of previously scarce acetylene; of mixed gases that had not been produced before in the USSR; and to reject entirely ineffective, highly explosive, environmentally harmful acetylene gas generators that had been widely exploited in industrial and building enterprises in Leningrad and its region at that time. The production delivery was organized to twenty-four countries worldwide; more than fifteen million cylinders of acetylene and mixed gases were distributed, which in the military, aerospace, and shipbuilding industries were in demand, as well as housing and communal services of Saint - Petersburg and Leningrad region had been produced. After the building, the production and stock body became a part of LPO «LENTECHGAS», further — ZAO «LENTECHGAS», Ltd., founded in 1932. The latter is the leader of North-Western region of the Russian Federation in production of technical gases; it is a part of a group of the French enterprises of «AIR LIQUIDE» company, one of the leaders in the field, from 2012. Regarding huge merit and great personal contribution and initiative in making, building, acetylene production start-up of the former General director, the Chairman of board of directors and then the President of ZAO «LENTECHGAS» Peter Dmitrievich Kuznetsov, the shareholders and workers suggested the plant be named in his honor.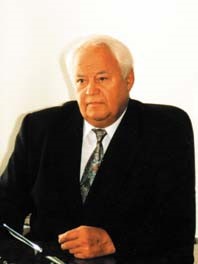 Peter Dmitrievich Kuznetsov was born June 22, 1932, in Novosibirsk region. He worked as an accountant at the region grocery of Selkhozsnab (literally translated as 'agricultural supply'). After his military service, he worked as a locksmith at «Zvezda» plant where he was repeatedly elected for public work. Combining his work and study, he graduated from Northwestern Polytechnic University. He was transferred from the «Zvezda» factory to the «Ekonomaizer» factory on the position of the external cooperation manager where he worked as a production vice-manager afterwards, and on the position of a vice-director for a nine-year term. In 1975 he was appointed the director of Leningrad oxygen plant, which became a part of LPO «LENTECHGAS», then the General director, the Chairman of board of directors, the President of ZAO «LENTECHGAS», Ltd. He was awarded with the order of honour «Znak Pochyeta», three medals and Ministry badge of «Otlichnik Khimicheskoy Promyshlennosti» (literally translated as 'The High Achiever in Chemical Industry'). He is a member of International Institute of Refrigeration (1998).